Brands Work
You need some creative and unique content for your advertising and Social Media?
What I can do for your brand?
– I can take your brand to the amazing waters of The Bahamas. Here we have amazing coral reefs, big shipwrecks, a wall, an underwater sculpture park with the biggest underwater sculpture in the world, clear blue waters…
– I can get your brand surrounded by amazing sea creatures, for examples here is a family of 40 Caribbean reef sharks that I can work with. Also we have a lot of fish that we can attract for an amazing picture and video.
– Your brand will be highlighted in the eyes of the viewers since we bring things that don't belong to the underwater world, and cause the effect :is this real"… making people spend more time in the picture and looking into your brand.
– To prove the shoot was real I will also give you a Behind the Scenes Video, that always get more attention than the pictures.
I have a great team of underwater models, safety divers, shark feeders that allows me to create any image that we can possibly imagine of your brand.
– Usually this kind of contents goes viral, so you have a great chance to get great exposure in the social media.
All the content will be in high resolution so you could use it from a Instagram post to a print advertising or banner.
– These days it is really important to have great content to be constantly posting in social media. I will make sure we have different scenarios, different outfits so you can get the most out of it.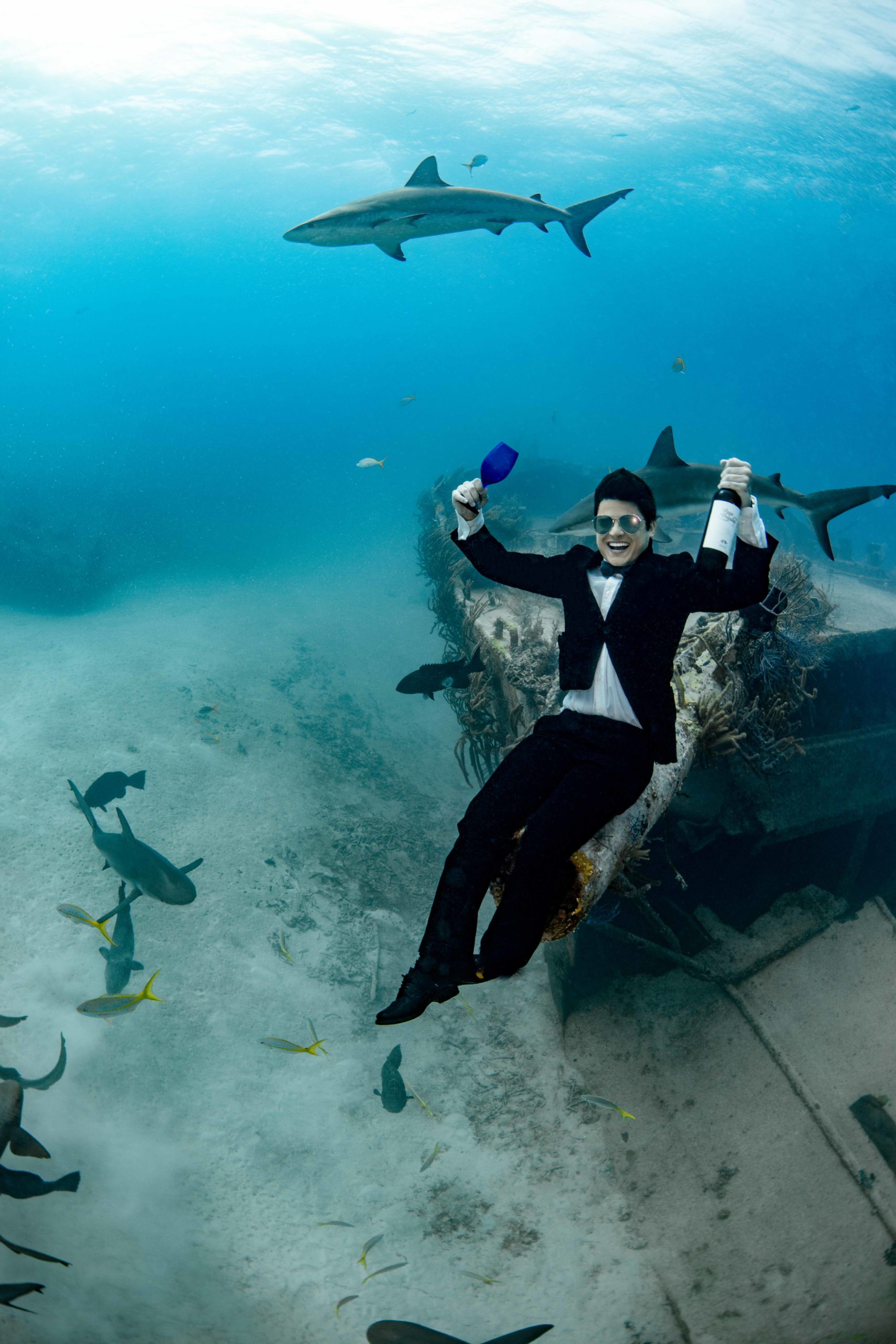 Explaining my brand work!
Shark Armor Shark Suit
Because you need one when you want to play with the sharks… and it's not better armor than this one. In this video we have the Shark Feeder Chang Sien modeling a full chain while he has a shark in tonic immobility… 
SCKORKL
This brand reached out to us so they could show their customers how reliable and how long you can be underwater with this pony bottle. We went down to a wreck 60ft/18 meters deep and swam for 10 mins…
Anthony's Key Resont Roatan
We went to Roatán to get some material for their social media and advertising. Travel for work is always fun, specially if diving in included!
Pazo Pegullal
This wine company wanted to create a special scenario for a glass of wine! We went down to a shipwreck, classy style, around some sharks and the combination was incredible! We reached more than 4 million views on Instagram!